Today we are browsing IBC in Amsterdam. It will be a rerun of NAB for the most part. It will be nice to see if all the trending topics on NAB will hold up on IBC.
Already stopped by the AJA booth where they continue to boost the Cion camera, introduced last NAB, and have it accompanied by new soft- and hardware. As it did in April I'm still impressed by the minimalistic design and use of materials. It is been adapted in the market over here. 4444 recording and 12 stops of dynamic left .. figures we could only dream of not so long ago.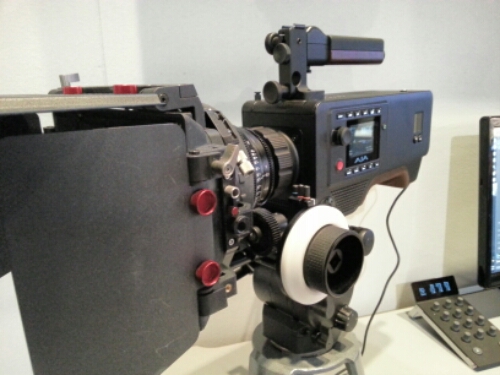 It's nemesis on numerous fields is also very much present at IBC. Blackmagic looks like it is expanding its Booth every year. Many low cost solutions that are highly popular in the independent and smaller post house configurations. They also aim to acquire the camera realm by having multiple cameras in multiple price levels. They also released Davinci Resolve version 11 with some new features. Resolve can rely on a prety heavy user base as it is being adopted by many over the world.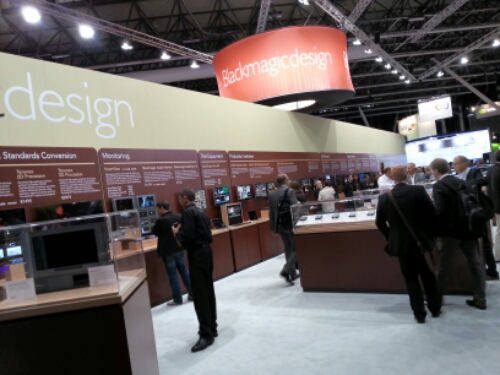 Nice to see that, compared to NAB last April, the flooding of 4K toned down. There is more balance in the offerings. Yes 4k is here to stay and we all would love to start shooting, editing, post processing and delivering 4k content but for that we need a major overhaul once more. Took us quite a while to adopt HD as a format. So there is less 4k and more connectivity. Bigger files require different means of transportation.
Connectivity through IP, SDI, mobile networks and what's more. Nowadays you can connect on almost every way and there isn't a place on this earth that will not allow you to get out content to the rest of the world. The battle for the studio transportation is still on. Some want IP transport some want to renew SDI. I read somewhere "SDI has to DIE" followed by how to renew SDI as a means of transportation. Time will tell what offers the most flexibility at the lowest costs and i like to believe that IP is going to win that battle.
Netwek had some nice new features added to their product "Tricaster". They continue to expand into the one box solution where you can do so much with just one single box. Luckily they also noticed that their is some limitation on what a human being can possibly do and that offering them in a box does not mean they can all be used by one man. Next was to write macro software that allows specific tasks to be captured in one button. They also created an external macro use that allows for instance an iPad to connect to the macros that are ready so another person can log shots and do multiple tasks without interfering with the operator.
They also created a single box which you can use to bring in Skype feeds. Nothing new nothing extraordinary but due to the simplicity of the setup i think a nice option. Just connect to skype on the box and it will send out (and in) SDI or Ethernet with the video and audio. They do a bit of processing of the video in order to have optimal image and sound. It looks simple and so it is. Combined with Tricaster it is a new way to gain access to people in the field with minimum if equipment.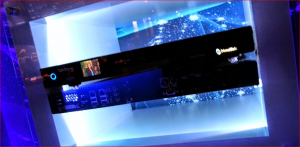 Avid announced their plans for the future. We where present at the event last Thursday where they went into specific details of the plans yet to come. I have to say, not surprising for those who know me, i love Avid and i love the way they are heading. Seems like they finaly "got" it. They have had a period where they (read: Avid) would drift away from their core businessand went on buying, creating, not realy finishing anything. Avid can do so much but not everything. Understanding your weakness is the start of something new and great. Instead of trying to do everything yourself just get yourself connected to those who can help you expand without all doing it your self. Create a more open architecture and allow others to tap into your resources. Why try to transcode to every single format and always be to late with codecs or what else. Leave that to the guys that know this stuff like Telestream (random chosen name). Same goes for many other services that bigger enterprise users might need. Leave it to the pro's i say and it seems Avid concurs.
They also introduced the "resolution independent" workflow. So finaly in the not to far future we will be able to work in any resolution we want. Just like Adobe features now in their After Effects application. It will open up more and nice possibilities and allows many others to work with Avid as well. As to what you bring in to Avid that also is of no concern at that time. With the help of FrameFlex it will scale to whatever you have decided to work in. And if, during the project, you decide to change the project size al FrameFlexed media will adjust accordingly. It seems Avid has a bright future to come and will be a solid alternative for other Editing Applications, especially in enterprise environments.
More to come later…